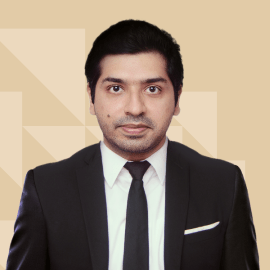 jawad.hassan@alirazapartners.com
Jawad Ul Hassan
Senior Associate
Mr Jawad was called to the Bar of England and Wales in 2017 and since then has developed his practice in Civil and Commercial litigation. Mr Jawad as part of his practice has dealt with various Provincial and Federal departments like the Lahore Development Authority (LDA), Parks & Horticulture Authority (PHA) Lahore & Faisalabad, Municipal Corporation Faisalabad (MCF), Punjab Revenue Authority (PRA), Federal Board of Revenue (FBR) and various other departments and has assisted the Legal Advisors of same. He also has vast experience with Co-operative Housing Societies and Private Housing Schemes.
He regularly appears before the High Courts, Federal Ombudsman, Civil & Sessions Court including the Commercial & Special Courts and various Tribunals. He also has expertise in providing non-contentious advisory and transactional services to clients ranging from rendering opinions to advising on projects, contracts (drafting and vetting), negotiations, strategy, etc.
Furthermore, Mr Jawad has remained a visiting lecturer at the University of the Punjab, Law Department from 2019-2021. He is also a visiting Lecture for Bar Transfer Course (BTT) and LLB (Hons) at one of the University of London accredited Institution since 2020 till date.