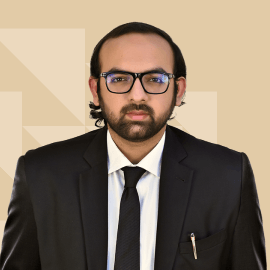 raza.ahmad@alirazapartners.com
Raza Ahmad
Senior Associate
Raza Ahmad is an Advocate of the High Court and a Solicitor of England and Wales, after his graduation from City University of London ventured on to get a Diploma in Financial and Technology Law from Duke University and since 2017 has his practice in corporate matters, civil litigation and matters relating to financial institutions.
During his practice was privileged to advise on various corporate and transactional matters of HealthTech multinationals operational in Pakistan, the United Kingdom and the United States of America.
He has had the opportunity to represent and advise various housing societies in matters relating to Land acquisition and enforcement of contracts.
Being on the panel of various textile industries, he has developed and apt knowledge on matters relating to textile sector including but not limited to matters relating to Utility services i.e. WAPDA and SNGPL, advising on transactional matters pertaining cross country export agreements and enforcement thereof.
Furthermore, whilst appearing before the Banking Courts and High Court, he has represented various companies in banking recovery matters and banking offences.